Here it is Oct. 17,2000 and Jim Walters was suppose to have been here Oct 12th and the dry waller was suppose to be here on the 13th... none of them have showed up...nothing new.... They still have alot of repairs to redo and just do... My stove has dents in it and scratches all down the side, the porch still has splits in the wood, the stainless steel sink is rusted in several spots, the smoke detector is broken, wall stilled bowed in one of the bedrooms, bathroom still has a lot of the old texture showing, above all the tubs looks real bad, window screens have white spray paint, the whole outside of the house needs to be cleaned lot of mud from the first dry wallers all over it, ect ect...I have faxed JWH 3 times with a list....but no show on there part. We have started painting the insides which probably be taken as we accepted the work they have done! But in no way have we accepted it!

BETWEEN OCT. 15 AND THE 17TH I HAVE RECEIVED 3 MORE E-MAILS FROM PEOPLE WHO ARE IN THE SAME BOAT AS WE ARE WITH JWH. ONE MAN FROM OHIO HAS BEEN UNDER CONSTRUCTION FOR 2 1/2 YEARS...HIS HOUSE FELL OF THE FOUNDATION (we spoke with this family on the phone and he will share his horror story as soon as he gets in his home),
Here is part of there e-mails I have not changed a word of these e-mails..in fact I just cut and pasted them on this page:
Well you terrible bitch you. How awful of you to pick on poor little old jim walter. If you haven't guessed by now, your story is not unique. A word of advice; at the very end they will come in and butter you up to the max and ask you to sign a completion form. DON'T..... DO NOT SIGN IT. ONCE YOU SIGN IT, THE HOUSE AND ALL IT'S PROBLEMS ARE YOUR BABY. YOU WON'T EVEN GET THE TIME OF DAY FROM JW AFTER THAT. As you've probably guessed I also have a jw home. I won't bore you with my story. Suffice it to say that the guy that came out to dig the footer for the foundation arrived in an old beatup economy car with a hand shovel,(we live in the north georgia mountains, red clay and rocks), and it got worse from there. After it's all done and everyone is gone you will almost daily find little problems with this and that, some of them incorrect able. For example, my back porch is not level and when it rains the water all runs up against the house. More advice; be a bitch, a bigger bitch, and finally strive to become the queen of all bitches. Let me tell you what I've surmised from my experience with jw. They make money by buying the materials as cheaply as possible. They make money by hiring the cheapest subcontractors they can find. I estimate that jw had about 20k in labor and materials in my 90% complete 70k home built in 1994. My experience tells me thay have a high turnover in both jw personnel and in subs. To get a good house you have to beat them with a hickory stick until the stick wears out then get another stick. I'm sorry you have had to endure this and perhaps your experience, along with mine and others will save someone else from the pain and agony. In conclusion, I'll tell you what my salesperson told me about jw. He wasn't with them long either. He said "Never miss a payment or even be late with one, they'll snatch your house and property in a heartbeat." He also told me that often jw local office staff would buy up the jw repos and that one woman in his local office owned three of them. And finally, as soon as possible move your loan to another lender. Good Luck
I just got done visiting your web site (found it by doing a search on JW Homes) and I just have to say, if your pictures had been of the Foxborough model, I would SWEAR, SWEAR, SWEAR that my mother wrote this!! They signed papers in July '99 and right now are still waiting for completion. I'm going to e-mail my mom a link to your site so she might contact you to share horror stories. Just wanted to know though what you meant by this: <<******IMPORTANT UPDATE******* DO NOT....I REPEAT DO NOT SIGN ANY CONTRACTS WITH JIM WALTER HOMES UNTIL YOU HAVE A LAWYER READ THE CONTRACTS!!! SEPT. 8, 2000 MY LAWYER JUST CALLED ME AND HE IS NOT PLEASED AT ALL WITH THE MORTGAGE CONTRACT WE SIGNED.... HE HAS HAD SEVERAL OTHER LAWYERS LOOK AT IT AND IT IS NOT A GOOD CONTRACT. THE WAY THE MORTGAGE AMOUNT IS WRITTEN IS THE PROBLEM... E-MAIL ME FOR MORE DETAILS !!!!!>> Thanks in advance and good luck,

Today is OCT 18th,2000 and where oh where is JW Homes?????? NOT HERE..... Just called there office again... Oh Dobbie forgot..thought it was suppose to be tomorrow....Now I understand when family illness happens and you can't make an appointment....but a phone call to say you can't make it is nice....ok I will let this one pass...Still no word on when the dry wall man will be here

Just got off the phone with JW Homes mortgage person in the OKC office...he was real nice....can't believe I said that...but he was....atleast he was today....not letting my guard down...any way he called to let us know that Bobert had signed off on the house and our payments start in Dec, 2000 and that the OKC office has seen this web page....he also ask what it would take me to be happy with Jim Walter's???? not sure what he meant by that remark...but any way.... We still haven't signed the final papers...and they have gone over there 2 week period to have all the things on the list that Bobert had listed on the final papers done......The more I think about all of this I get really upset... I have to pay but the work isn't done????? Doesn't seem right does it!
Dobbie had some one from his office call and say he would be out this afternoon....well the only one that came was the dry wall man....he was here about 30 to 45 minutes he fixed behind the upstairs toilet and that was all.
HERE IS THE REPAIR LIST of all we have found wrong and not fixed
MASTER BEDROOM
Fire Alarm is faulty WE HAVE CHANGED BATTERY IN IT AND STILL BEEPS EVERY 2 MINUTES NEEDS TO BE REPLACED
MASTER BATHROOM
Above and all around the tub needs fixed SLOPPY WORK
Dry wall around Shower nozzle does not cover the nozzle cover
UPSTAIRS BATHROOM
All around and above the tub NEEDS FIXING SLOPPY WORK
The dry wall around shower nozzle needs repaired
FRONT UPSTAIRS BEDROOM
South wall is bowed (TO ME THIS COULD BE SOME KIND OF STRUCTURAL DAMAGE)
LIVING ROOM
The tv antenna cable has been pushed up inside the wall... WE FOUND THE CALBE...THOUGHT IT WASN'T THERE.....
KITCHEN
Stove is it a second???? Has a dent and a scratch on the side and no cord..I WANT IT REPLACED WITH A NEW ONE IN PERFECT CONDITION
Missing drawer front
Floor needs to be smoothed no pits
Sink is already rusting(needs to be replaced)..MUST BE SOME CHEAP STAINLESS STEEL
OTHER ITEMS
Front porch- several places are split and has poor workmanship NEEDS TO BE FIXED ALL SPLIT WOOD NEEDS REPLACED look around the whole porch
Outside window screens have white spray paint on them
Inside stairs,front and back porch needs cleaning like we have been told

If this is being nit picky than I guess I am..... but I want my home done right wouldn't you??????
Here is the front porch AFTER my husband cleaned it..we had to use a power washer and it took over an hour to clean the front and back porch deck!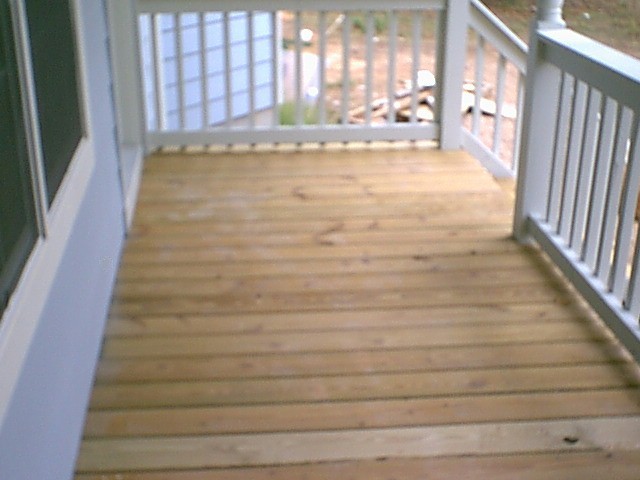 Today is Oct 19, 2000 they came out to fix the split wood on the front porch.... well they globes some white putty stuff on top of the wood smoothed it out and painted over it... the putty wasn't dry before they painted then they cleaned there putty knife on my tree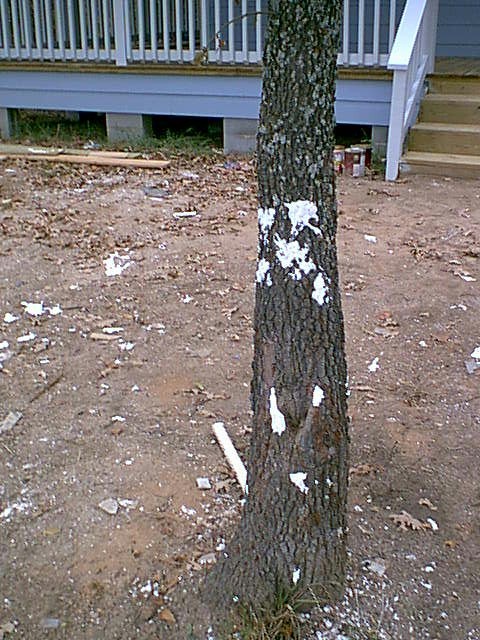 ...they replaced the smoke alarm, brought the missing drawer front...but the wrong size! Imagine that.... Just like JWH.... The wall in the front upstairs bedroom hasn't been worked on...porch still has splits in the wood, stove has not been replaced and I still have rust in the kitchen sink. THIS IS GETTING REAL OLD FAST !!!!! BUT WHAT CAN WE DO :o) HMMMMM Any way my husband called Dobbie about the wrong drawer front and Dobbie said he left the wrong one on and the right one was being over night mailed(Dobbie was never here today my husband was home all day) and he would bring it tomorrow yeah right ...like he was suppose to be here WED.... You know this is really sad We would of been so understanding 12 months ago if these people would of said Hey we are having some trouble with finding quality workers that will do you a good job. But no this company does low low quality work and TRY to pass it off as High Quality work. I do believe the people that work for the JWH OKC office need to learn some manners and that the customer is ALWAYS RIGHT. I now know one thing JWH could do to make me happy! Take out a full page ad in the Sunday Oklahoman newspaper and on it have a written apology to all there Oklahoma customers naming them by name for perpetuating against them! And also state that they have done LOW QUALITY WORK ON OUR HOMES AND THAT THEY WILL MAKE ALL COMPLAINTS RIGHT WITHIN 90 DAYS! Like that will ever happen... A girl can dream can't she!!!!!!


Just wanted to let every one know that JIM WALTER HOMES in OKC knows about this web page....Maybe just maybe we will get some results.....I am trying to have a little bit of faith...... but real hard when they JWH has broken so may deadlines and appointments.....

ATTENTION JIM WALTER HOMES PERSONNEL!
I am offering you a spot on this web page to explain WHY this has happened to us! In all fairness I will give you a chance to explain! I will cut and paste your e-mail to me with your explanation or your views on why we feel the way we do about this company!

It is Oct 22, 2000 we have been painting all weekend...I got to the down stairs bathroom and would you believe there is a 1/2 inch dip in the ceiling!!!!!! Just more documentation... When will this nightmare END! They want a payment in Dec...but guess what we have No account number or do we know where to send the payment to.....When we had our insurance papers to prove we had insurance on the house...they didn't know who we were! and said we didn't have an account with them......
It has now been 22 days since the so call walk through and Bobert signed the release papers (we didn't sign them) with the list of items to be fixed....some are still not fixed..The wall is still bowed..when will this be fixed....not till we do it our self!

Today is Oct.30,2000 and we have asked JWH not to come on our property again. We will fix all of there screws our self at our cost. Every time they come fix some thing they mess up some thing else or do a job that looks like crap! All we have asked them to to is get our kitchen drawer! and we still haven't gotten that...been over a week! We have gotten the downstairs all painted and most of the upstairs painted. While we have been painting we have found very crooked walls, big globs of putty on the walls, more cracks in the corners and ceiling. We will just fix them our self and absorb the cost...... Here is the latest screw up we have found. This is 3 pictures...look at the space between the 2 mouldings...It gets smaller and smaller..we don't know how we are going to fix this one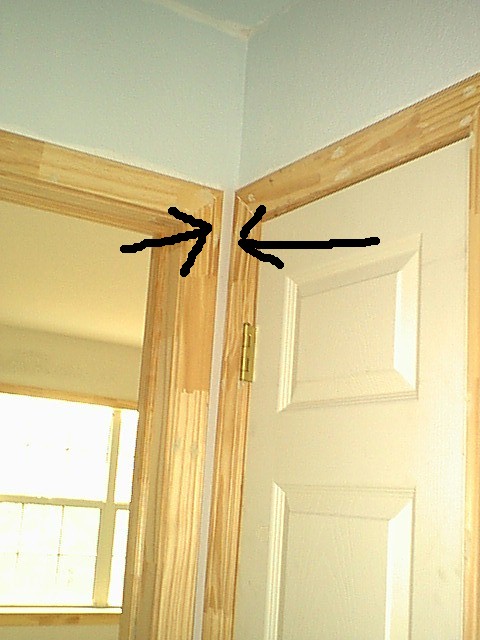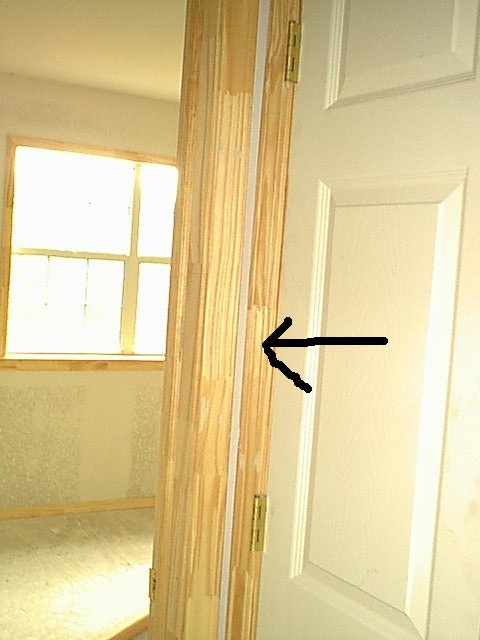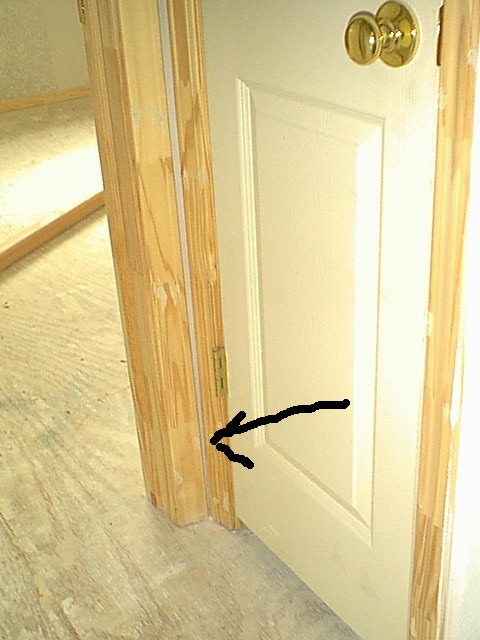 I work for a MAJOR CORPORATION in Shawnee, Oklahoma and last night I was speaking to my plant manager about on time delivery well he said if we as a company had a supplier that was 266 days late on delivery on a product.... we would NEVER use that supplier again and we would make sure no one in the corporation used that supplier and the company would be asking for compensation!....hmmm sounds good to me

My husband is a teacher and usually works in the summer with extra contracts but not this summer because he wanted to be able to finish the house ( we had our house done to 90%) We have had tile contractors scheduled 10 times..... the man to hook up our plumbing from the house to our septic system was scheduled at least 5 times..... We have had people ready to come help us paint the inside and well ...... you have to have something to paint......... and we DON'T



DO NOT....I REPEAT DO NOT SIGN ANY CONTRACTS WITH JIM WALTER HOMES UNTIL YOU HAVE A LAWYER READ THE CONTRACTS!!!
SEPT. 8, 2000 MY LAWYER JUST CALLED ME AND HE IS NOT PLEASED AT ALL WITH THE MORTGAGE CONTRACT WE SIGNED.... HE HAS HAD SEVERAL OTHER LAWYERS LOOK AT IT AND IT IS NOT A GOOD CONTRACT. THE WAY THE MORTGAGE AMOUNT IS WRITTEN IS THE PROBLEM... E-MAIL ME FOR MORE DETAILS !!!!!




Names have been SLIGHTLY changed



Well we might be in our house by let see.........

DECEMBER 2010..... JUST MAYBE...I am not holding my breath!



I liken our experience with JWH to this. It's like being on a sinking ship and going to the Captain, only to find that the SHIP'S CAPTAIN IS "DAFFY DUCK"!


BACK TO THE FIRST PAGE

PLEASE SIGN OUR GUESTBOOK
Sign My Guestbook
View My Guestbook



HERE ARE OTHER PEOPLES HORROR STORIES ABOUT

Give 'EM Hector



IF YOU HAVE A JIM WALTER HOMES HORROR STORY PLEASE LET ME KNOW.... E-MAIL ME



FastCounter by LinkExchange
MORE PICTURES TO BE POSTED REAL SOON!